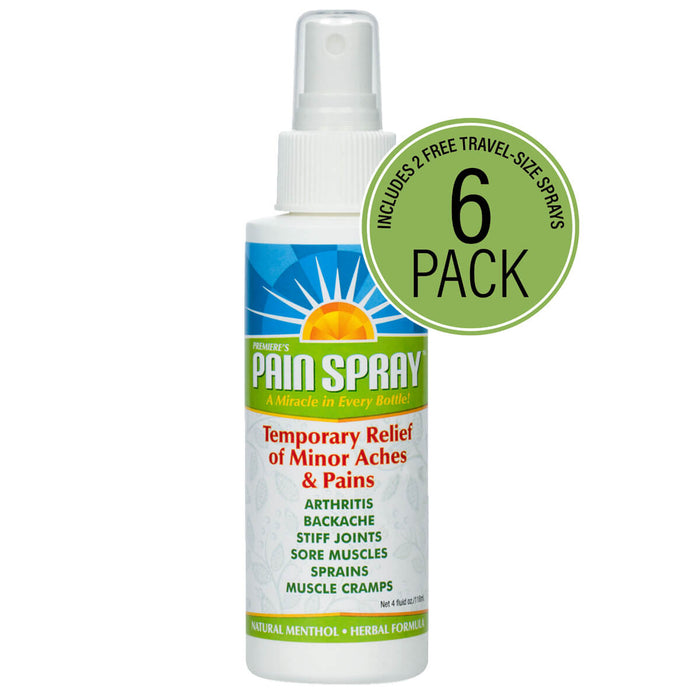 Chronic Pain Relief Spray
Premiere's Pain Spray Mist
Save up to

$222.00
Save

$33.00
Original price
$17.50
-
Original price
$420.00
---
Description
A Pain Relief Spray for Even the Worst Chronic Pain
More than one in five Americans lives with a chronic pain condition. Arthritis is the most common. But there are others, including Back Injury, Fibromyalgia, Chronic Foot Pain, and Carpal Tunnel.
And did you know that chronic pain is not just a problem for aging adults? Nearly 20% of American children live with nagging pain, day in and out.
Until there are cures for these conditions, there's Premiere's Pain Spray Mist. It's the safe, all-herbal menthol formula that gives temporary relief from even the worst aches and pain. Because it's advised for youngsters as young as age 2, it's smart to keep bottles handy for the whole family!

The Pain Relief Just Keeps Coming!
Stock up with this big-bargain multi-pack? You'll save on every bottle – and get FREE Travel-Size (regularly priced at $6.95 each.) They're small enough for little hands, so school-age kids can learn to use them. Tucked down in an adult's purse or pocket, they're perfect for powerful pain relief anywhere, anytime.
Get 1 free travel-size with 3-Pack, 2 free travel-size with 6-Pack, 3 free travel-size with 12-Pack, and 6 free travel-size with 24-Pack.
---
Ingredients
Purified water, menthol, isopropyl alcohol, glycerol, eucalyptus leaf oil, wintergreen leaf oil, peppermint oil, coconut oil. Never stains skin, clothes or bedding.
---
Uses
How to Use Premiere's Pain Spray
Get fast, temporary relief for aches and pains with Premiere's Pain Spray. Here are just some of the ways you can use our powerful formula:
Bruises, sprains, and childhood boo-boos.
Joint pain in fingers, hands, and wrists.
High heel foot pain.
Minor soreness from over-exertion.
Sore muscle relief.
Tired, swollen feet.
Apply up to 4 times daily. Individual results may vary.
Original price
$17.50
-
Original price
$420.00