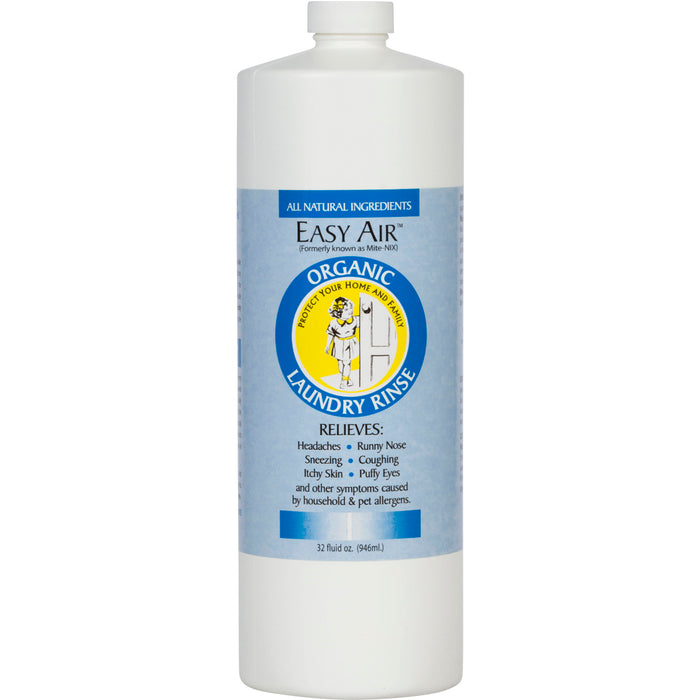 Laundry Rinse to Stop Indoor Allergies
Easy Air Organic Allergy Relief Laundry Rinse REFILL
Save up to

$52.00
Save

$18.05
Original price
$71.00
-
Original price
$142.00
---
Description
Wash Indoor Allergies Out Of Your Clothes
If you're already using Easy Air Organic Laundry Rinse, then you know it's a powerful weapon against indoor allergy symptoms. Add just 2 ounces of this clear liquid to your final rinse cycle, and indoor allergies are a thing of the past.
Now you can get twice the all-natural allergy protection when you order our convenient REFILL bottle. It will protect you twice as long from microscopic contaminants shed by dust mites and the ones found in dog dander, cat fur, and animal saliva.
A Little Goes a Long Way
Allergy-proof 16 loads of laundry with this 32-ounce REFILL bottle. Each 2-ounce application protects your laundry items through 4 washings. Plus you get $6 Off our regular bottle pricing.
---
Ingredients
Easy Air Organic Laundry Rinse is a 100% biodegradable blend of deionized water, non-ionic surfactants, hypoallergenic fruit & vegetable seed extracts along with other botanical ingredients that neutralize and deconstruct dust, mite and animal allergens rendering them harmless to humans and pets.
---
Uses
How to Use Easy Air for Indoor Allergies
Add 2 ounces of Easy Air Organic Allergy Relief Laundry Rinse to the final rinse cycle of one full machine load. Benefits last through as many as 4 washings. Never stains. Non-toxic. No harmful side effects. Safe for all ages. Money-back guarantee. If you have pets, we recommend using Easy Air Laundry Rinse when you wash their bed cushions, cloth toys, and sporty clothes! 
Original price
$71.00
-
Original price
$142.00