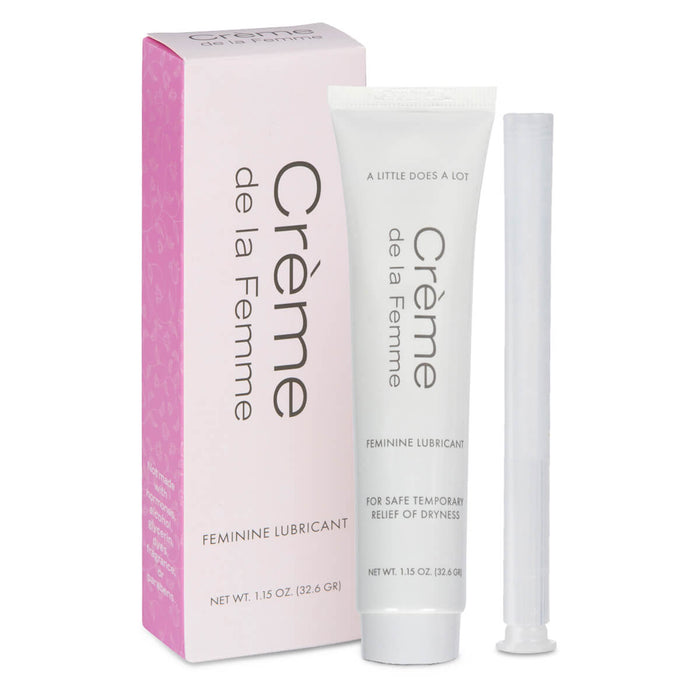 Natural Vaginal Dryness Cream
Crème De La Femme
Save up to

$421.80
Save

$0.00
Original price
$6.95
-
Original price
$670.80
---
Description
A Natural Cream for Soothing Feminine Moisture
Frustrated with messy vaginal creams and suppositories that only make you feel dryer and more itchy? Tired of sex being painful instead of pleasurable? Crème De La Femme is the all-natural solution to both of these common problems. It lets you stop vaginal dryness, itching, and irritation on contact.
This soothing cream is perfect to use:
As a daily vaginal moisturizer to protect delicate tissue.
As a sexual lubricant to make intimacy more comfortable.
Quickly soothes dryness and irritation
Formulated by a doctor for relief of dryness, no matter what the cause. Never feels cold or runny. Never burns. Pampers, protects, and preserves a woman's most delicate tissue, throughout  every phase of her adult life. 
Pharmaceutical grade (USP) mineral oil, petrolatum, ceresin and paraffin. Glycerin-free. Fragrance-free. Hormone-free. No alcohol. No dyes or paraben preservatives. 
Get 1 free travel-size tube with 3-Pack, 2 free travel-size with 6-Pack, 3 free travel-size with 12-Pack, and 6 free travel-size with 24-Pack.
---
Uses
How to Use Crème de la Femme
Our formula preserves and protects your vagina inside and out. You can use Crème de la Femme two ways.
Apply a small amount externally with a clean fingertip after a bath or shower.
Apply internally with the slender applicator that comes in each package.
With Crème de la Femme, you don't have to worry about toxic additives, artificial fragrances, or hormones. Contains no alcohol, glycerin, or paraben preservatives. You can safely use as much as you need, as often as you need it. Won't interfere with hormone replacement or any other prescription medication.
Crème de la Femme is FDA-Cleared and blended with 100% pharmaceutical-grade mineral oil. Not a contraceptive or spermicide. Do not use with condoms. Not compatible with natural lambskin, latex, polyurethane, or polyisoprene condoms. It may weaken the condom and make it more likely to break.
Results are not guaranteed and may vary.
Original price
$6.95
-
Original price
$670.80