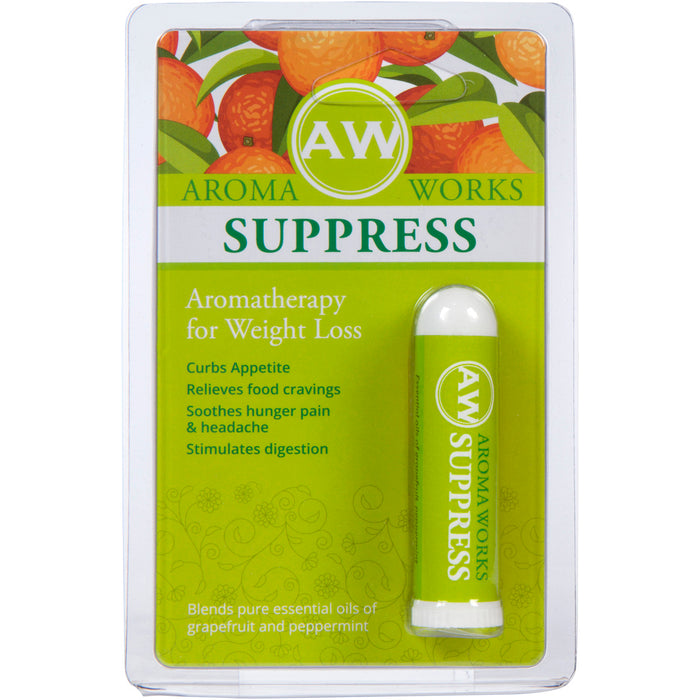 Aromatherapy For Weight Loss
Aromaworks Aromatherapy SUPPRESS Inhaler
Save up to

$47.40
Save

$0.00
Original price
$9.95
-
Original price
$119.40
---
Description
Aromatherapy Can Make Healthy Eating Easier!
Losing weight can be hard when you're always feeling hungry. A lazy metabolism can sabotage even the healthiest eating plan. Fight back against those unwanted pounds and the nagging urge to snack with AromaWorks Aromatherapy Suppress Inhaler. This effective blend of essential oils:
Curbs appetite.
Relieves food cravings.
Soothes hunger pain and headache.
Stimulates digestion.
When used as directed, it supports a healthy diet and exercise plan for weight control.
Curb your appetite the natural way
Mindless snacking can ruin your weight control efforts. But fasting altogether can lead to a terrible headache. Let AromaWorks Aromatherapy Suppress Inhaler help you achieve your goals. Place it directly under your nose and take a few deep breaths to inhale the blend of 100% pure essential oils inside:
Grapefruit to reduce feelings of hunger.
Peppermint to reduce hunger pains, relieve diet headaches, and support a low-calorie food regimen.
Feel free to use it as often as you like because it's 100% non-addictive, and has no harmful side effects.
---
Ingredients
Essential oils of grapefruit and peppermint.
---
Uses
How to use AromaWorks aromatherapy inhalers
For the best results, we recommend placing the inhaler directly below your nose and breathing in deeply and slowly. Our inhalers are safe to use as often as needed to achieve the support level you need. As with all our products, if you're not completely satisfied, we offer a 100% satisfaction guaranteed refund.
Original price
$9.95
-
Original price
$119.40