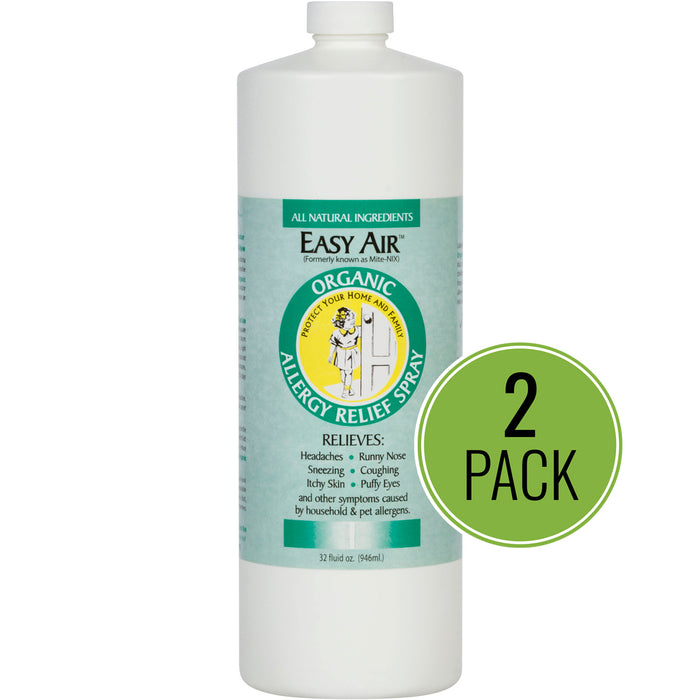 Save BIG on Indoor Allergy Relief
Easy Air Organic Allergy Relief Spray REFILL
Save

$5.95
Save

$5.95
Original price
$35.95
-
Original price
$67.90
---
Description
Stock-Up & Save on Indoor Allergy Relief
Never skimp on indoor allergy relief! Whether it's dust, mites, or pet contaminants that provoke your symptoms, Easy Air Organic Allergy Relief Spray will INSTANTLY get rid of them!
Consider choosing this 32-oz. REFILL 2-Pack. You'll get 64 ounces total. Enjoy the biggest savings we offer on the product. And help safeguard the planet with this
100% eco-friendly formula. No chemicals. No pesticides. No harmful ingredients.  
---
Ingredients
Easy Air Organic Allergy Relief Spray is a 100% biodegradable blend of deionized water, non-ionic surfactants, hypoallergenic fruit & vegetable seed extracts along with other botanical ingredients that neutralize and deconstruct dust, mite and animal allergens rendering them harmless to humans and pets.
---
Uses
How to Use Easy Air for Indoor Allergies
Spray it on, and the allergens are gone! Easy Air Organic Allergy Relief Spray goes right to the heart of what causes your indoor allergy symptoms. Use as often as you need. Generally, an application helps control symptoms for up to 4 weeks.
Never stains. Non-toxic. No harmful side effects. Safe for people of all ages. Harmless to pets, so you can enjoy your favorite furry family members without compromising your health. 
Original price
$35.95
-
Original price
$67.90