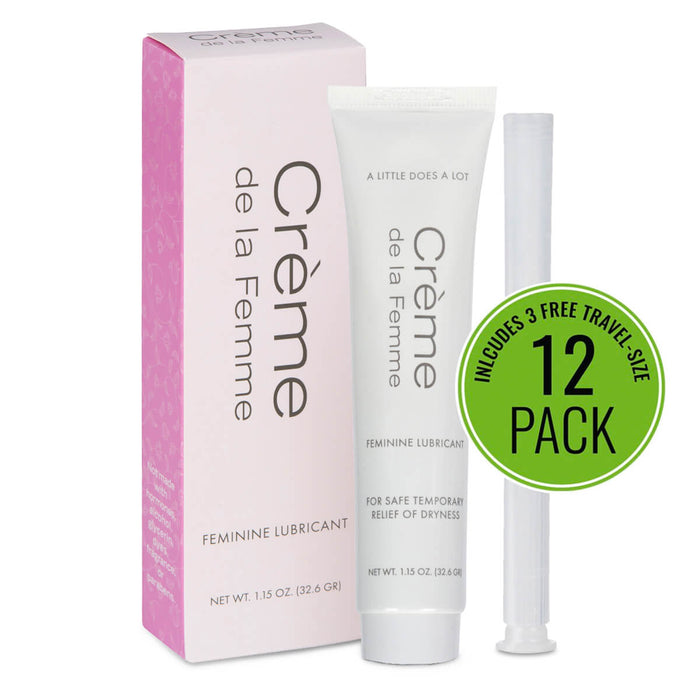 When Illness Causes Vaginal Dryness
Creme De La Femme
Save up to

$421.80
Save

$173.40
Original price
$27.95
-
Original price
$670.80
---
Description
Stay Well & Comfortable with Creme De La Femme

Did you know that some medical conditions can cause vaginal dryness? It's true. Nagging intimate discomfort can be the result of Diabetes, Sjogren's Syndrome, Recurrent Yeast Infections, various Immune Disorders, and even some prescription medicines such as Antidepressants, Chemotherapy Drugs, or Antihistamines.
Sadly, you cannot wish away chronic health conditions. However, you can trust Creme De La Femme vaginal moisturizer to offer hours of safe relief from the intimate dryness that goes along with them. This silky cream soothes feminine tissue on contact and supplements natural moisture for hours. 
So Many Ways to Save
Enjoy major savings when you order this handy multi-pack. Each tube comes with a slender applicator for internal use. And as a special thank-you, we'll include Free Travel-Size tubes for discreet, on-the-go relief. Each one is normally priced at $5.95.
Get 1 free travel-size with 3-Pack, 2 free travel-size with 6-Pack, 3 free travel-size with 12-Pack, and 6 free travel-size with 24-Pack.
---
Ingredients
Pharmaceutical grade (USP) mineral oil, petrolatum, ceresin and paraffin. Glycerin-free. Fragrance-free. Hormone-free. No alcohol. No dyes or paraben preservatives. 
---
Uses
How to Use Crème de la Femme
Our formula preserves and protects your vagina inside and out. You can use Crème de la Femme two ways.
Apply a small amount externally with a clean fingertip after a bath or shower.
Apply internally with the slender applicator that comes in each package.
With Crème de la Femme, you don't have to worry about toxic additives, artificial fragrances, or hormones. Contains no alcohol, glycerin, or paraben preservatives. You can safely use as much as you need, as often as you need it. Won't interfere with hormone replacement or any other prescription medication.
Crème de la Femme is FDA-Cleared and blended with 100% pharmaceutical-grade mineral oil. Not a contraceptive or spermicide. Do not use with condoms. Not compatible with natural lambskin, latex, polyurethane, or polyisoprene condoms. It may weaken the condom and make it more likely to break.
Results are not guaranteed and may vary.
Original price
$27.95
-
Original price
$670.80