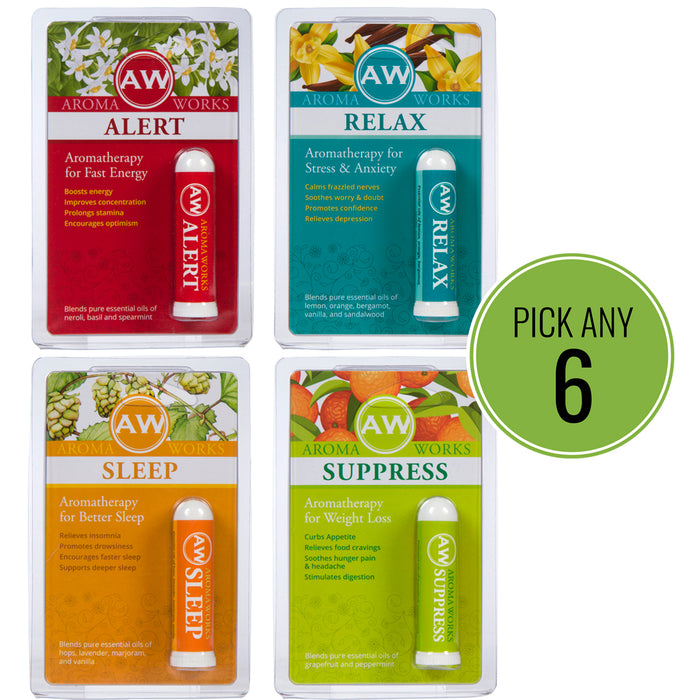 How To Use Essential Oils
Aromaworks Aromatherapy Mix & Match Inhaler Pack
Save

$11.70
Save

$11.70
Original price
$26.85
-
Original price
$53.70
---
Description
Learn the Health Secrets of Aromatherapy

Frustrated with an occasional lack concentration? Tired of tossing and turning all night? Fed up with too much stress? Or maybe you want to lose a few pounds before a special event. Well, we've got your covered with our AromaWorks Aromatherapy Mix & Match Pack! Just choose your favorite 100% pure essential oil inhalers from our selection of 4 options:
Alert for a natural brain boost.
Relax for a calming effect to soothe anxiety and tension.
Sleep for the solution to occasional insomnia.
Suppress for all-natural appetite control and digestion support.
When used as directed, these inhalers make it easy to enjoy the benefits of aromatherapy. Plus, they're non-addictive and have no side effects. So, you can safely and confidently use them all as often as you like.
Mixing up the savings for solid results
Get a multi-pack of just one inhaler blend, Or design the assortment of formulas best suits your needs. Either way, you'll enjoy great discount pricing with this fun Mix & Match Pack. 
---
Ingredients
Alert: essential oils of neroli, basil and spearmint. Relax: essential oils of lemon, orange, bergamot, vanilla and sandalwood. Sleep: essential oils of hops, lavender oil, marjoram and vanilla. Suppress: essential oils of grapefruit and peppermint.
---
Uses
How to use AromaWorks aromatherapy inhalers
For the best results, we recommend placing the inhaler directly below your nose and breathing in deeply and slowly. Our inhalers are safe to use as often as needed to achieve the support level you need. As with all our products, if you're not completely satisfied, we offer a 100% satisfaction guaranteed refund.
Original price
$26.85
-
Original price
$53.70