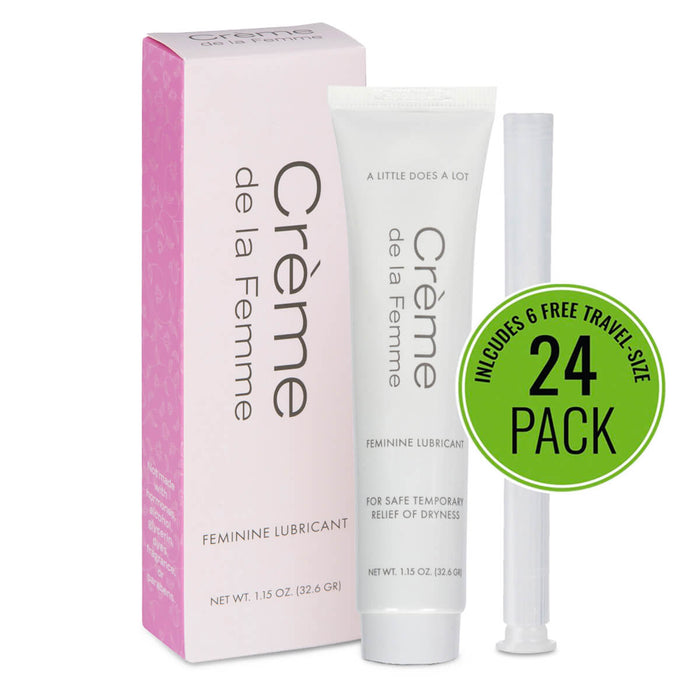 A Woman's Personal Lubricant
Crème De La Femme
Save up to

$421.80
Save

$421.80
Original price
$27.95
-
Original price
$670.80
---
Description
Experience The Perfect "Extra Moisture"
Looking for a safe, effective woman's lubricant that won't dry up, get runny, or overwhelm with artificial fragrance and flavor? The moisturizing power of Crème De La Femme may be just what you're looking for!  Sophisticated and subtle, it pampers and protects delicate tissue at any age.
Feel free to apply well ahead of time, because the temporary moisture of Creme De La Femme lasts for hours. Or use it just before an intimate encounter – to feel even more comfortable and confident. This silky-sheer cream is so delicate, you'll barely know it's there. Yet what a difference it will make for you and your partner.


Big Savings & FREE Travel-Size
What's better than a great bargain? Answer: a great bargain AND a Free Gift! That's what you'll get with this multi-pack order. Enjoy complementary Travel-Size tubes to tuck down in your purse or overnight bag. Perfect for on-the-go moisture whenever and whenever you want it!
---
Ingredients
Pharmaceutical grade (USP) mineral oil, petrolatum, ceresin and paraffin. Glycerin-free. Fragrance-free. Hormone-free. No alcohol. No dyes or paraben preservatives. 
---
Uses
How to Use Crème de la Femme
Our formula preserves and protects your vagina inside and out. You can use Crème de la Femme two ways.
Apply a small amount externally with a clean fingertip after a bath or shower.
Apply internally with the slender applicator that comes in each package.
With Crème de la Femme, you don't have to worry about toxic additives, artificial fragrances, or hormones. Contains no alcohol, glycerin, or paraben preservatives. You can safely use as much as you need, as often as you need it. Won't interfere with hormone replacement or any other prescription medication.
Crème de la Femme is FDA-Cleared and blended with 100% pharmaceutical-grade mineral oil. Not a contraceptive or spermicide. Do not use with condoms. Not compatible with natural lambskin, latex, polyurethane, or polyisoprene condoms. It may weaken the condom and make it more likely to break.
Results are not guaranteed and may vary.
Original price
$27.95
-
Original price
$670.80