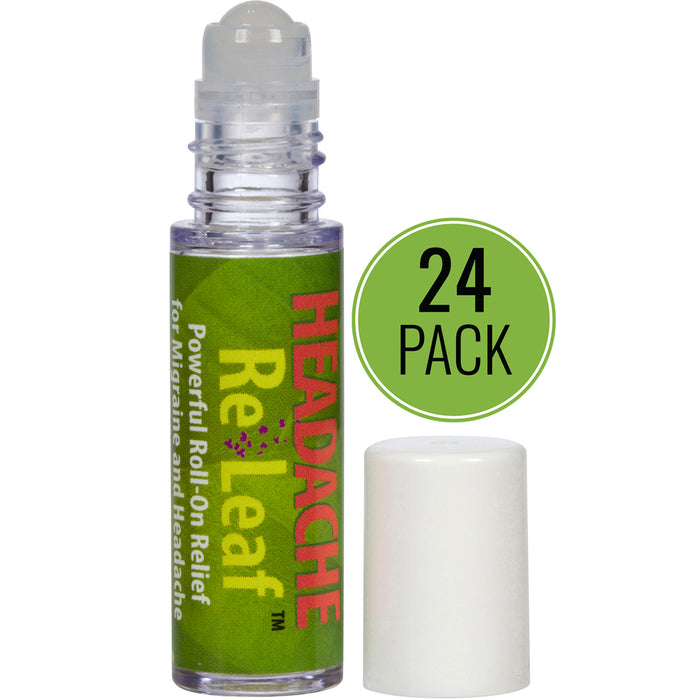 Natural Migraine Relief Roll-On
Headache ReLeaf Roll-On
Save up to

$112.80
Save

$112.80
Original price
$9.95
-
Original price
$238.80
---
Description
Trust ReLeaf Roll-On for Migraine Pain
The only thing worse than a migraine is feeling one coming, but you've run out of Headache ReLeaf!

The next time migraine pain creeps in, be ready with this powerful herbal blend of menthol and essential oils. Also relieves sinus headache, hormone headache, stress and tension headache, allergy headache, and head pain brought on by overexertion, exhaustion, hunger, even emotional upset. 
Super Savings on Natural Headache Relief
Who doesn't like to save money on their favorite products? Nobody, that's who! So, treat yourself to this Bargain Pack. The rollerball applicator makes it easy to. The pocket-size bottles let you keep one everywhere. In your jacket, purse, knapsack, desk drawer, night table, medicine cabinet. You name it!
Strong enough for adults, safe for teens and even kids ages 5 and up.
---
Ingredients
Purified water, menthol, isopropyl alcohol, glycerol, eucalyptus leaf oil, wintergreen leaf oil, peppermint oil, coconut oil, essential oil of lavender, and essential oil of rose.
---
Uses
How to Use Headache ReLeaf Roll-On
There is no wrong way to use Headache ReLeaf Roll-On. It's safe for application directly to the skin and scalp. Roll it on for strong and almost immediate headache relief without the kind of side effects that come with over the counter and prescription pain relievers.
Roll it on, and the pain is gone. Money-back guarantee.
Original price
$9.95
-
Original price
$238.80