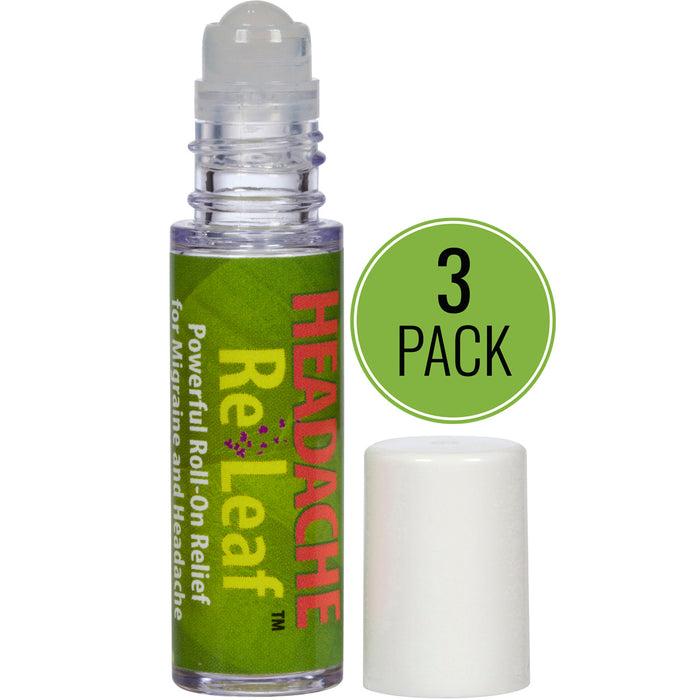 Fast Stress Headache Relief
Headache ReLeaf Roll-On
Save up to

$142.80
Save

$2.85
Original price
$11.95
-
Original price
$286.80
---
Description
Roll-On Relief for Stress & Tension Headache
Tightness in your scalp, neck, and shoulders can trigger the mother of all headaches. Luckily, you can get FAST relief from even the worst stress and tension headaches with this herbal roll-on remedy.

The active ingredient is menthol (one of nature's strongest painkillers). Then we add essential oils of lavender, peppermint and rose – aromatherapy remedies for headache pain. Plus, the easy glide applicator lets you use it discreetly, anywhere and anytime.
Buy More and Save on Every Bottle
Enjoy discount pricing when you order this handy Headache ReLeaf multi-pack. Lets you can keep one at home, one at work, and another in your briefcase or gym bag. Strong enough for adults, safe for teens and even kids ages 5 and up.
---
Ingredients
Purified water, menthol, isopropyl alcohol, glycerol, eucalyptus leaf oil, wintergreen leaf oil, peppermint oil, coconut oil, essential oil of lavender, and essential oil of rose.
---
Uses
How to Use Headache ReLeaf Roll-On
There is no wrong way to use Headache ReLeaf Roll-On. It's safe for application directly to the skin and scalp. Roll it on for strong and almost immediate headache relief without the kind of side effects that come with over the counter and prescription pain relievers.
Roll it on, and the pain is gone. Money-back guarantee.
Original price
$11.95
-
Original price
$286.80