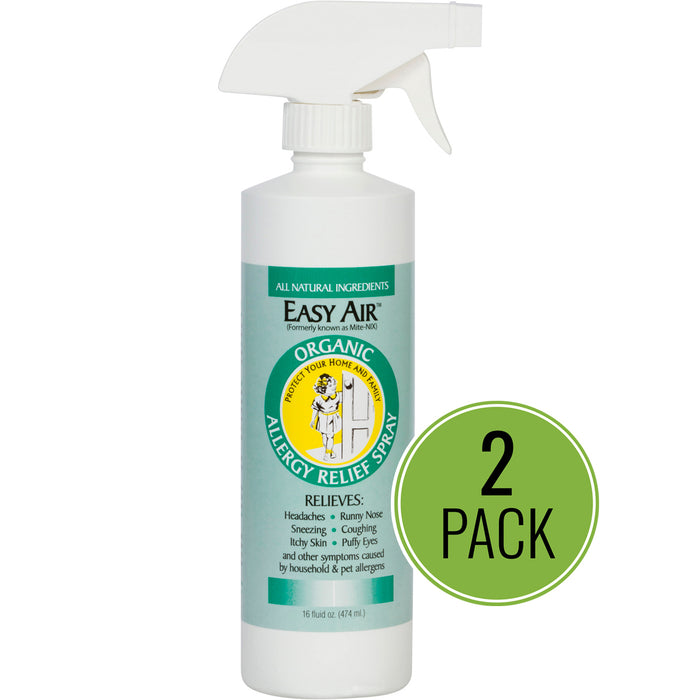 Double Protection Against Indoor Allergies
Easy Air Organic Allergy Relief Spray
Save

$3.95
Save

$3.95
Original price
$19.95
-
Original price
$39.90
---
Description
Get Twice as Much Indoor Allergy Relief 
Your home should be your castle, even if you suffer from dust, mite, or pet allergies. Now it CAN be with all-natural Easy Air Organic Allergy Relief Spray. Just a light mist will  help stop:
Itchy, watery eyes
Runny nose
Sneezing
Dry coughing
Swollen sinuses
Pressure headaches
Apply to any fabric surface, because that's where indoor allergens collect. Upholstery. Mattresses & Pillows. Carpeting and Rugs. Drapes & Curtains. Even Pet Cushions and Cloth Toys. 
Economical and Safe

Our Easy Air Organic Allergy Relief Spray 2-Pack saves you $4 off the regular bottle price when purchased separately. And it cuts down on how often you need to reorder.
Plus, this all-natural formula destroys indoor allergens with 100% eco-friendly ingredients. No harsh chemicals. Never stains. Safe for the whole family (including all your furry friends). 
---
Ingredients
Easy Air Organic Allergy Relief Spray is a 100% biodegradable blend of deionized water, non-ionic surfactants, hypoallergenic fruit & vegetable seed extracts along with other botanical ingredients that neutralize and deconstruct dust, mite and animal allergens rendering them harmless to humans and pets.
---
Uses
How to Use Easy Air for Indoor Allergies
Spray it on, and the allergens are gone! Easy Air Organic Allergy Relief Spray goes right to the heart of what causes your indoor allergy symptoms. Use as often as you need. Generally, an application helps control symptoms for up to 4 weeks. 
Original price
$19.95
-
Original price
$39.90