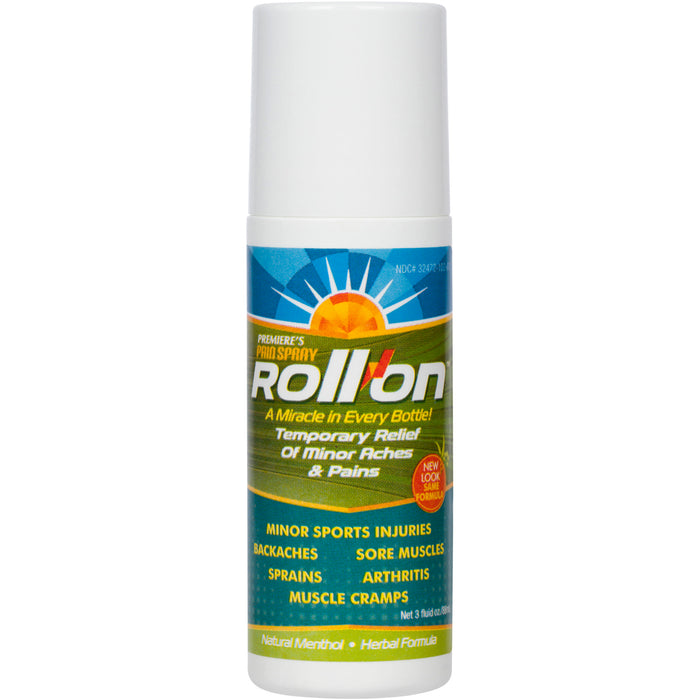 Instant Pain Relief Roll-On
Premiere's Pain Spray Roll-On
Save up to

$222.00
Save

$0.00
Original price
$17.50
-
Original price
$420.00
Description
Powerful Roll-On Pain Relief in Less Than 2 Minutes!

Bend, lift, stretch, and move again without pain when you rely on this powerful roll-on formula. Relieves stiff neck and sore back. Soothes tired, aching feet. Great after a tough workout. Or after a day of heavy lifting and moving. Also good for chronic pain conditions like Arthritis, Sciatica, Fibromyalgia, Carpal Tunnel, or Neuropathy. 

Designed to Be Ultra-Easy to Use 
Apply this herbal liquid-gel as often as you need it. Use as much as your pain demands. The easy-glide rollerball applicator quickly gets at hard-to-reach places. Gives relief in less than 2 minutes. Benefits last for hours. No harmful side effects.
Ingredients
Purified water, menthol, isopropyl alcohol, glycerol, eucalyptus leaf oil, wintergreen leaf oil, peppermint oil, coconut oil. Never stains skin, clothes or bedding.
---
Uses
How to Use Premiere's Pain Spray Roll-On
Get fast, temporary relief for aches and pains with Premiere's Pain Spray Roll-On. You get the same amazing benefits of our mist in a convenient roll-on for targeted relief. Here are just some of the ways you can use our powerful formula:
Bruises, sprains, and childhood boo-boos.
Joint pain in fingers, hands, and wrists.
High heel foot pain.
Minor soreness from over-exertion.
Sore muscle relief.
Tired, swollen feet.
Apply up to 4 times daily. Individual results may vary.
Original price
$17.50
-
Original price
$420.00