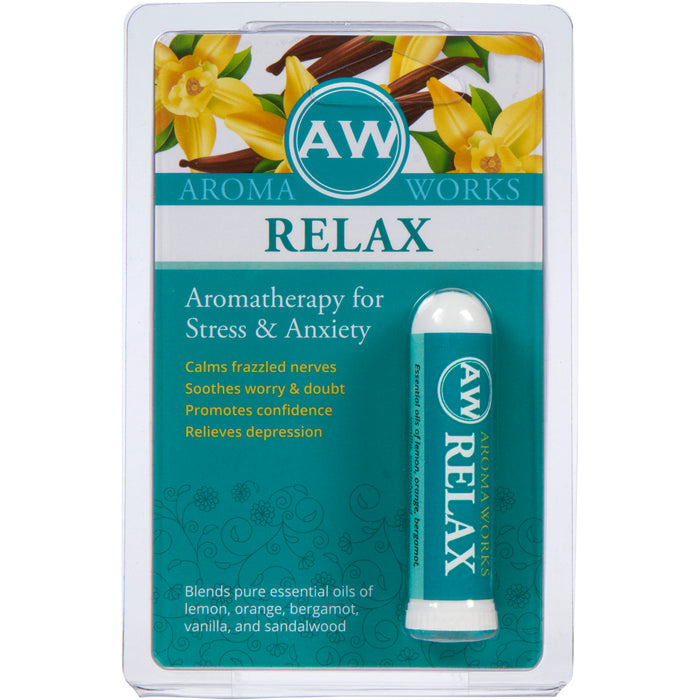 Aromatherapy For Anxiety & Stress
AromaWorks Aromatherapy RELAX Inhaler
Save up to

$47.40
Save

$0.00
Original price
$9.95
-
Original price
$119.40
---
Description
Calms Frazzled Nerves In An Instant
A whopping 84 percent of Americans say they frequently battle feelings of stress and anxiety. AromaWorks Aromatherapy Relax Inhaler is formulated as an effective all-natural solution for those times of upset. This unique blend of pure essential oils:
Calms frazzled nerves.
Promotes confidence.
Relieves depression.
Soothes worry and doubt.
It safely and quickly delivers natural stress relief anytime, anywhere.
Calms even the most frazzled nerves naturally
Anytime frustrating tension threatens to ruin your day, just reach for our AromaWorks Aromatherapy Relax Inhaler and take a few deep inhales. Our powerful combination of 100% grade essential oils includes:
Bergamot, lemon, and orange to soothe the nervous system, encourage flexibility, and remove self-doubt.
Sandalwood and vanilla to minimize fear and balance the mind naturally.
You can use it confidently, knowing it's 100% non-addictive, and has no harmful side effects.
---
Ingredients
Essential oils of lemon, orange, bergamot, vanilla and sandalwood.
---
Uses
How to use AromaWorks aromatherapy inhalers
For the best results, we recommend placing the inhaler directly below your nose and breathing in deeply and slowly. Our inhalers are safe to use as often as needed to achieve the support level you need. As with all our products, if you're not completely satisfied, we offer a 100% satisfaction guaranteed refund.
Original price
$9.95
-
Original price
$119.40