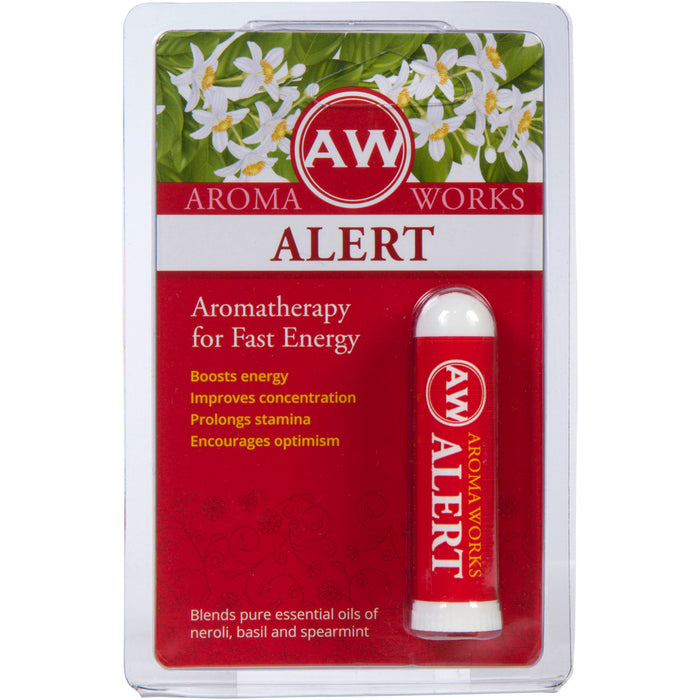 Aromatherapy For Energy & Concentration
AromaWorks Aromatherapy ALERT Inhaler
Save up to

$35.40
Save

$0.00
Original price
$8.95
-
Original price
$107.40
---
Description
Get A Safe And Natural Energy Boost
Life can get hectic, which can wear you down in a hurry. AromaWorks Aromatherapy Alert Inhaler is an effective all-natural solution for those times when you need a little pick-me-up. This unique blend of pure essential oils:
Boosts energy.
Encourages optimism.
Improves concentration.
Prolongs stamina.
It's perfect for busy professionals, serious students, and sleep-deprived parents.
Restores your energy and sharpens your focus
Boosting your energy and improving your concentration has never been easier. Our powerful combination of 100% grade essential oils includes:
Neroli to super-charge your nervous system, relieve tension, and reduce mental distraction.
Basil & spearmint to improve brain function and promote optimism.
Best of all, you can safely use it as often as you like because it's 100% non-addictive, and has no harmful side effects.
---
Ingredients
Essential oils of neroli, basil and spearmint.
---
Uses
How to use AromaWorks aromatherapy inhalers
For the best results, we recommend placing the inhaler directly below your nose and breathing in deeply and slowly. Our inhalers are safe to use as often as needed to achieve the support level you need. As with all our products, if you're not completely satisfied, we offer a 100% satisfaction guaranteed refund.
Original price
$8.95
-
Original price
$107.40