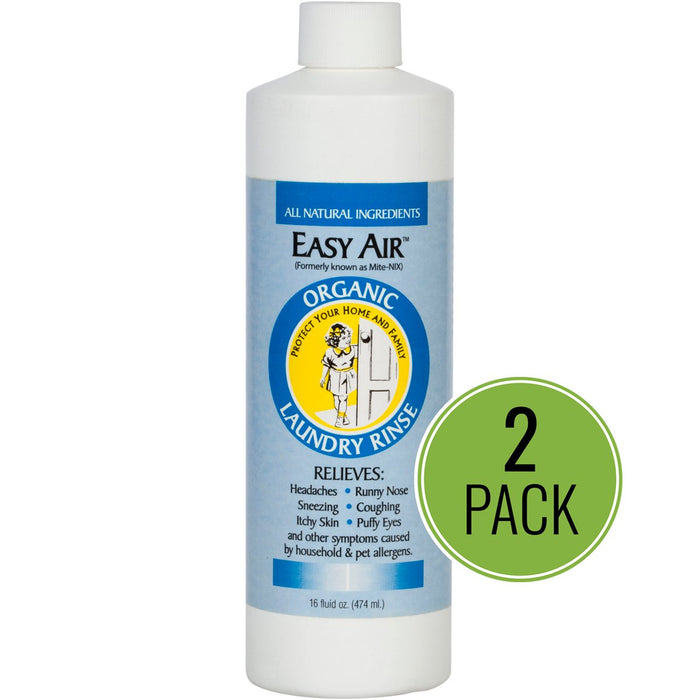 Get Your Family 2X the Allergy Protection
Easy Air Organic Allergy Relief Laundry Rinse
Save

$20.00
Save

$4.00
Original price
$39.95
-
Original price
$39.95
---
Description
Get More Allergy Relief for Less $$$
Do your think your laundry is clean? Well… probably not as clean as you want it to be. Even after a full and dry, protein particle "allergens" still cling to clothing, bed sheets and pillowcases, even bathroom towels.
Even the harshest laundry detergents cannot eliminate them. But Easy Air Organic Allergy Relief Laundry Rinse is specially formulated to remove the contaminants that provoke your allergy symptoms.
Whether the problem is Dust, Dust Mites Residuals, Cat Fur, Dog Dander, Pet Saliva, or Human Perspiration & Dead Skin Cells -- this clear-liquid formula will clean away the allergens that make you feel miserable.
Double the Strength Against Indoor Allergies

We're so confident you'll love Easy Air Organic Allergy Relief Laundry Rinse, we also offer it in this handy 2-Pack. You'll save $4 off the regular bottle price with this multi-pack. And the anti-allergen benefits will last through as many as 4 laundry cycles.
---
Ingredients
Easy Air Organic Allergy Relief Spray is a 100% biodegradable blend of deionized water, non-ionic surfactants, hypoallergenic fruit & vegetable seed extracts along with other botanical ingredients that neutralize and deconstruct dust, mite and animal allergens rendering them harmless to humans and pets.
---
Uses
How to Use Easy Air to Fight Indoor Allergies
Add 2 ounces of Easy Air Organic Allergy Relief Laundry Rinse to the final rinse cycle of one full machine load. Benefits last through as many as 4 washings. Never stains. Non-toxic. No harmful side effects. Safe for all ages. Money-back guarantee. If you have pets, we recommend using Easy Air Laundry Rinse when you wash their bed cushions, cloth toys, and sporty clothes!
Original price
$39.95
-
Original price
$39.95