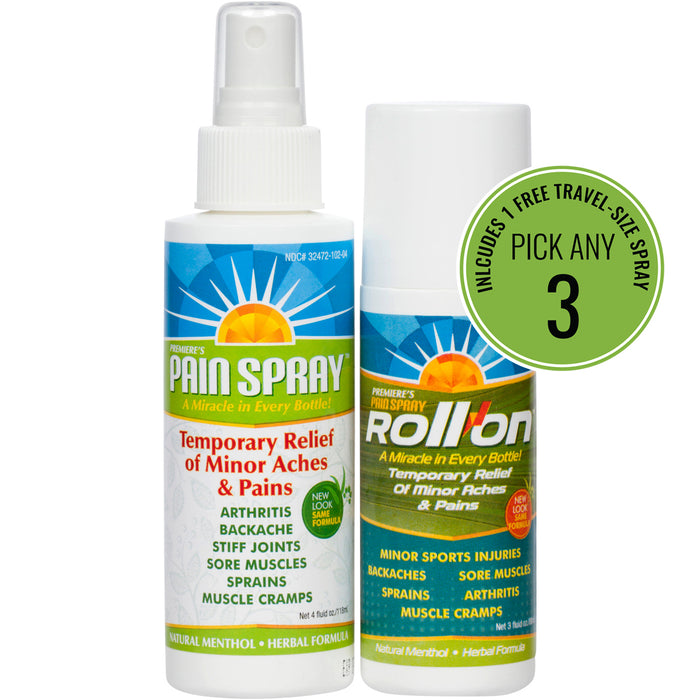 Got Pain? Pick 2 Kinds of Relief
Premiere's Pain Spray Mix & Match Pack
Save up to

$222.00
Save

$4.50
Original price
$52.50
-
Original price
$420.00
---
Description
Mix-and-Match Your Relief
Sometimes you ache all over. Other times you get sharp pain in just one spot. That's why we created our 3-Pack Pain Spray Mix & Match -- so you can decide how much Spray Mist and Roll-On you want.
Both are menthol-based pain relievers. Both contain moisturizing oils, to ensure that the  products don't irritate your skin. Both offer strong relief FAST. 
Which Formula Is Best for What?
The Spray Mist is usually best when you don't want to touch the places that hurt. This clear liquid formula is great for Arthritis, Muscle Sprains, Minor Sport Injuries, Nighttime Leg Cramps, Bruises, and Sunburn pain.
The Roll-On is best if you're sore in hard-to-reach places. Like between your shoulder blades, or in the upper-middle of your back. The cooling liquid gel rolls on effortlessly. Dries fast. Never drips or runs. Ideal for athletes during practice and games. 
A Little of Each Can Be Good, Too
Finally, there are times when you need both. Start with Spray Mist, for general relief over a large area. Then use the Roll-On to deliver extra relief where you need it most.
You save on every bottle with this creative multi-pack. Plus you get Free Travel-Size.  Keep one in your purse or pocket, for on-the-go relief. 

---
Ingredients
Purified water, menthol, isopropyl alcohol, glycerol, eucalyptus leaf oil, wintergreen leaf oil, peppermint oil, coconut oil. Never stains skin, clothes or bedding.
---
Uses
How to Use Premiere's Pain Spray Mist or Roll-On
Get fast, temporary relief for aches and pains with Premiere's Pain Spray Mist and Roll-On. Here are just a few more ways you can use our powerful formula:
Swollen joints 
High heel foot pain.
Overexertion pain and swelling
Sciatica

Neuropathy
All herbal formula means you can apply as often as you like, and use as much as you need. No stain formulas. Money Back Guarantee. 
Original price
$52.50
-
Original price
$420.00