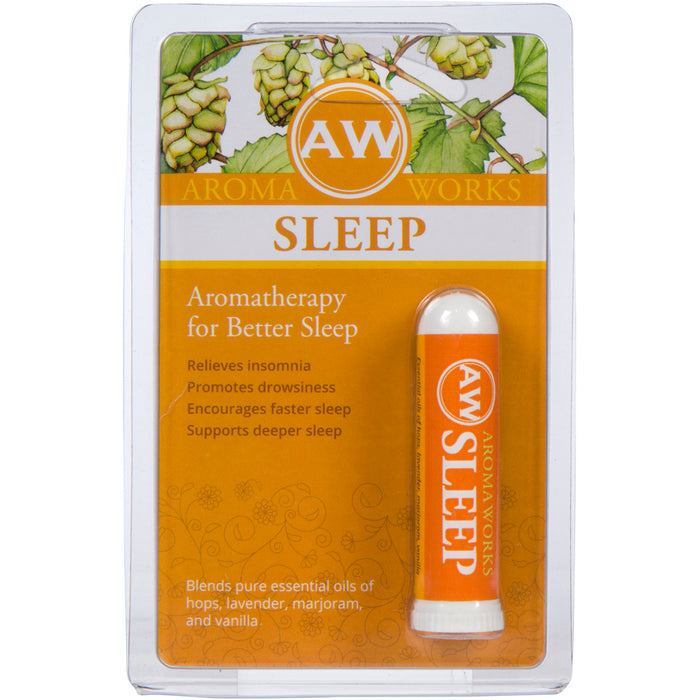 Aromatherapy For Sleep
Aromaworks Aromatherapy SLEEP Inhaler
Save up to

$47.40
Save

$0.00
Original price
$9.95
-
Original price
$119.40
---
Description
Fall Asleep Faster & Wake Up Refreshed!
Tired of being tired? So are 70 million other Americans struggling with occasional sleeplessness. Now you can fight back with AromaWorks Aromatherapy Sleep Inhaler. This unique mix of pure essential oils:
Encourages faster sleep.
Promotes drowsiness.
Relieves insomnia.
Supports deeper sleep.
It encourages drowsiness, so you can fall asleep faster and wake up the next day feeling refreshed.
Sleep, precious sleep, the natural way
When counting sheep doesn't help, give AromaWorks Aromatherapy Sleep Inhaler a try. Place it directly under your nose and take a few deep breaths to inhale the blend of essential oils inside. Our powerful combination of 100% pure essential oils includes hops, lavender, marjoram, and vanilla to:
Calm irritability.
Combat anxiety.
Ease frustration.
Plus, you can feel free to use it as often as you like because it's 100% non-addictive, and has no harmful side effects.
---
Ingredients
Essential oils of hops, lavender, marjoram and vanilla.
---
Uses
How to use AromaWorks aromatherapy inhalers
For the best results, we recommend placing the inhaler directly below your nose and breathing in deeply and slowly. Our inhalers are safe to use as often as needed to achieve the support level you need. As with all our products, if you're not completely satisfied, we offer a 100% satisfaction guaranteed refund.
Original price
$9.95
-
Original price
$119.40