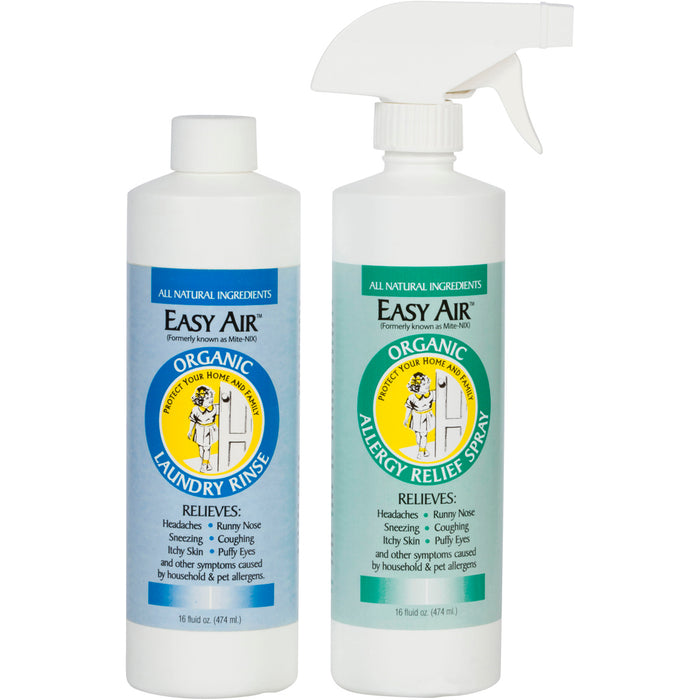 2 Ways to Win the Indoor Allergy War
Easy Air Organic Allergy Relief Combo-Pack
Save

$3.95
Save

$3.95
Original price
$39.90
-
Original price
$39.90
---
Description
How to Stop Dust Mite & Pet Allergies
It's hard to stop indoor allergies! That's because every home contains BILLIONS of microscopic "protein allergens." They come from airborne dust, mites, dog danger, cat fur, even pet saliva. And they are the cause of your allergy symptoms.
Nobody can eliminate them all, so the goal is to get rid of enough to keep yourself comfortable. Air purifiers help. HEPA vacuum cleaners, and anti-allergy mattress covers do, too. However, they can't totally end symptoms like Itchy, Watery Eyes. Runny Nose. Sneezing. Dry Cough. Nasal Congestion. Inflamed Sinuses. Pressure Headache
The Secret Weapon Against Symptoms
To win the battle against allergy misery, you need the power of Easy Air Organic Allergy Relief Combo Pack. Each pack includes one 16-ounce bottle of:
Easy Air Organic Allergy Relief Spray
Easy Air Organic Laundry Rinse
The dual power of this liquid formula kit digs down deep to deconstruct microscopic "protein allergens" that cause your indoor allergy symptoms. 
Plus you get $4 off the price of buying each product separately. Safe for all ages. Pet-friendly. Money-back guarantee.
---
Ingredients
Both formulas in the Easy Air Organic Allergy Relief Combo-Pack are 100% biodegradable blends of deionized water, non-ionic surfactants, hypoallergenic fruit & vegetable seed extracts along with other botanical ingredients that neutralize and deconstruct dust, mite and animal allergens rendering them harmless to humans and pets.
---
Uses
How to Use Easy Air for Indoor Allergies
Organic Allergy Relief Spray: Lightly mist your mattresses, pillows, carpets, drapes, curtains, and furniture upholstery -- to deconstruct allergens and keep you home allergy-free for up to 4 weeks.
Organic Allergy Relief Laundry Rinse: Add 2 ounces of Easy Air  to the final rinse cycle of your laundry -- to remove microscopic protein allergens from clothes, bed linen, and bathroom towels. (Tip: use it when you wash your pet's bed cushions, cloth toys, and sport clothes, so you can enjoy your furry family members without compromising your health.) 
Original price
$39.90
-
Original price
$39.90