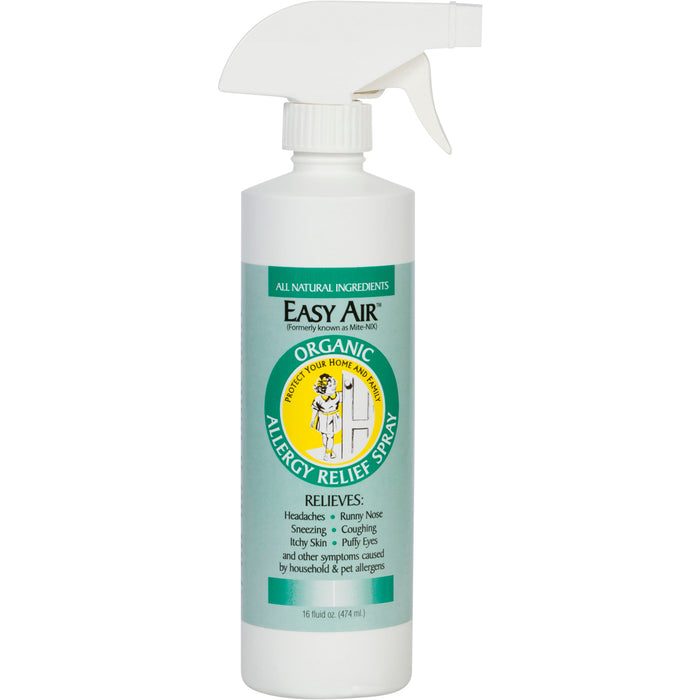 Beat Dust & Mite Allergies Instantly
Easy Air Organic Allergy Relief Spray
Save up to

$11.00
Save

$0.00
Original price
$35.50
-
Original price
$71.00
---
Description

Stop Dust Mite Allergy in Seconds!
Want to stop dust & dust mite allergy symptoms? Look no further than Easy Air Organic Allergy Relief Spray.
Lightly mist fabric surfaces in your home and office, because that's where dust and mite "allergens" collect! Use it on upholstered furniture, carpeting, rugs, drapes, curtains, mattresses, and pillows.
Easy Air works by deconstructing the indoor contaminants that cause your allergy misery. It's like taking a dangerous boulder and turning it into harmless rubble. The reward is no more red, burning eyes. No more runny nose, scratchy throat, sneezing, coughing, headaches, or itchy rashes. 
Natural Allergy Relief. No Toxic Chemicals

All-Organic Easy Air destroys indoor allergens without any toxic chemicals. Made entirely with organic, eco-friendly ingredients. 
---
Ingredients
Easy Air Organic Allergy Relief Spray is a 100% biodegradable blend of deionized water, non-ionic surfactants, hypoallergenic fruit & vegetable seed extracts along with other botanical ingredients that neutralize and deconstruct dust, mite and animal allergens rendering them harmless to humans and pets.
---
Uses
How to Use Easy Air for Indoor Allergies
Spray it on, and the allergens are gone! Easy Air Organic Allergy Relief Spray goes right to the heart of what causes your indoor allergy symptoms. Use as often as you need. Generally, an application helps control symptoms for up to 4 weeks.
Never stains. Non-toxic. No harmful side effects. Safe for people of all ages. Harmless to pets, so you can enjoy your favorite furry family members without compromising your health. 
Original price
$35.50
-
Original price
$71.00