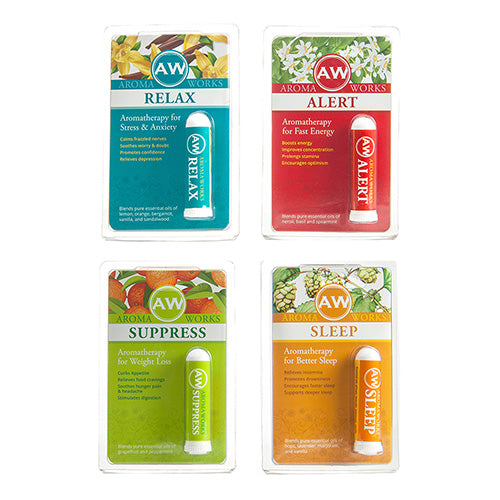 Aromatherapy Kit For Beginners
AromaWorks Aromatherapy Inhaler Variety Pack
Save

$9.80
Save

$9.80
Original price
$39.80
-
Original price
$39.80
---
Description
Let Essential Oils Improve Your Health
Everyday health struggles challenge us all. Whether it's occasional loss of sleep, or stress and anxiety, there are times when we can all use a little help. Of course, there are some over-the-counter and prescription medications available, but they sometimes come with unwanted side effects.
Choose the all-natural solution for what ails you -- with the AromaWorks Aromatherapy Inhaler Variety Pack. Each pack contains one of the following inhalers from our collection:
Alert for a natural brain boost.
Relax for a calming effect to soothe anxiety and tension.
Sleep for the solution to occasional insomnia.
Suppress for all-natural appetite control and digestion support.
When used as recommended, these essential oil inhalers support overall health and well-being. Use them as often as you like because they're all 100% non-addictive and have no harmful side effects.
Get the all-natural support you need
Enjoy the benefits of our powerful all-natural essential oil inhalers and save money when you buy our variety pack. You'll receive four of our most popular, laboratory-tested aromatherapy inhalers at nearly a $6 savings off the regular price when purchased separately.
---
Ingredients
Alert: essential oils of neroli, basil and spearmint. Relax: essential oils of lemon, orange, bergamot, vanilla and sandalwood.Sleep: essential oils of hops, lavender oil, marjoram and vanilla. Suppress: essential oils of grapefruit and peppermint.
---
Uses
How to use AromaWorks aromatherapy inhalers
For the best results, we recommend placing the inhaler directly below your nose and breathing in deeply and slowly. Our inhalers are safe to use as often as needed to achieve the support level you need. As with all our products, if you're not completely satisfied, we offer a 100% satisfaction guaranteed refund.
Original price
$39.80
-
Original price
$39.80